TAU undergoes CHED-CBIE internationalization mentoring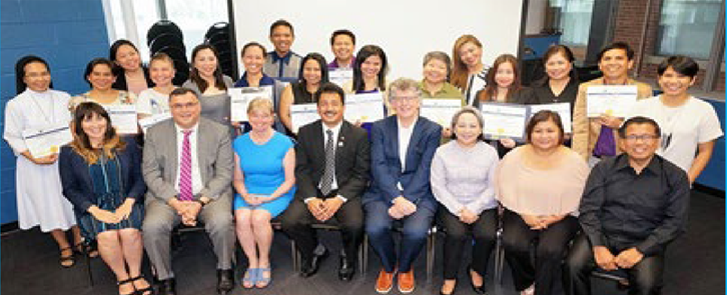 The Tarlac Agricultural University (TAU), represented by Dr. Christine N. Ferrer, Director for External Linkages and International Affairs, has been privileged to be part of the 15 selected public and private higher education institutions (HEIs) in the Philippines which met the institutional and individual criteria for the capacity building initiative, "The Internationalization of Higher Education in the Philippines: A Strategic Training Program," organized and sponsored by the Commission on Higher Education (CHED) in partnership with the Canadian Bureau of International Education (CBIE).
The seven-month program includes in- Canadatraining (Phase 1), onlineeducation (Phase 2) and in-country training (Phase 3). It endeavors to provide participants with assistance in the development of institutional internationalization strategies and implementation planning including best practices, partnership building, curriculum development, research opportunities and funding mechanisms. Phase I of the program consisted of 27-day in-Canada program curriculum design covering a diverse pedagogical approach based on adult education and experiential learning. Lectures and presentations from well-known internationalization mentors and authors – Professor Hans De Witt (Boston College) and Professor Sonja Knutsun (Memorial University) enhanced the participants' background and widened their perspectives of internationalization through group discussions and assignments, case studies, situational analysis, self-reflections, and review of current policies and practices.
Read more: TAU undergoes CHED-CBIE internationalization mentoring