Recognized for 'Excellent Partnership'
TAU Reaches New Heights in International Forum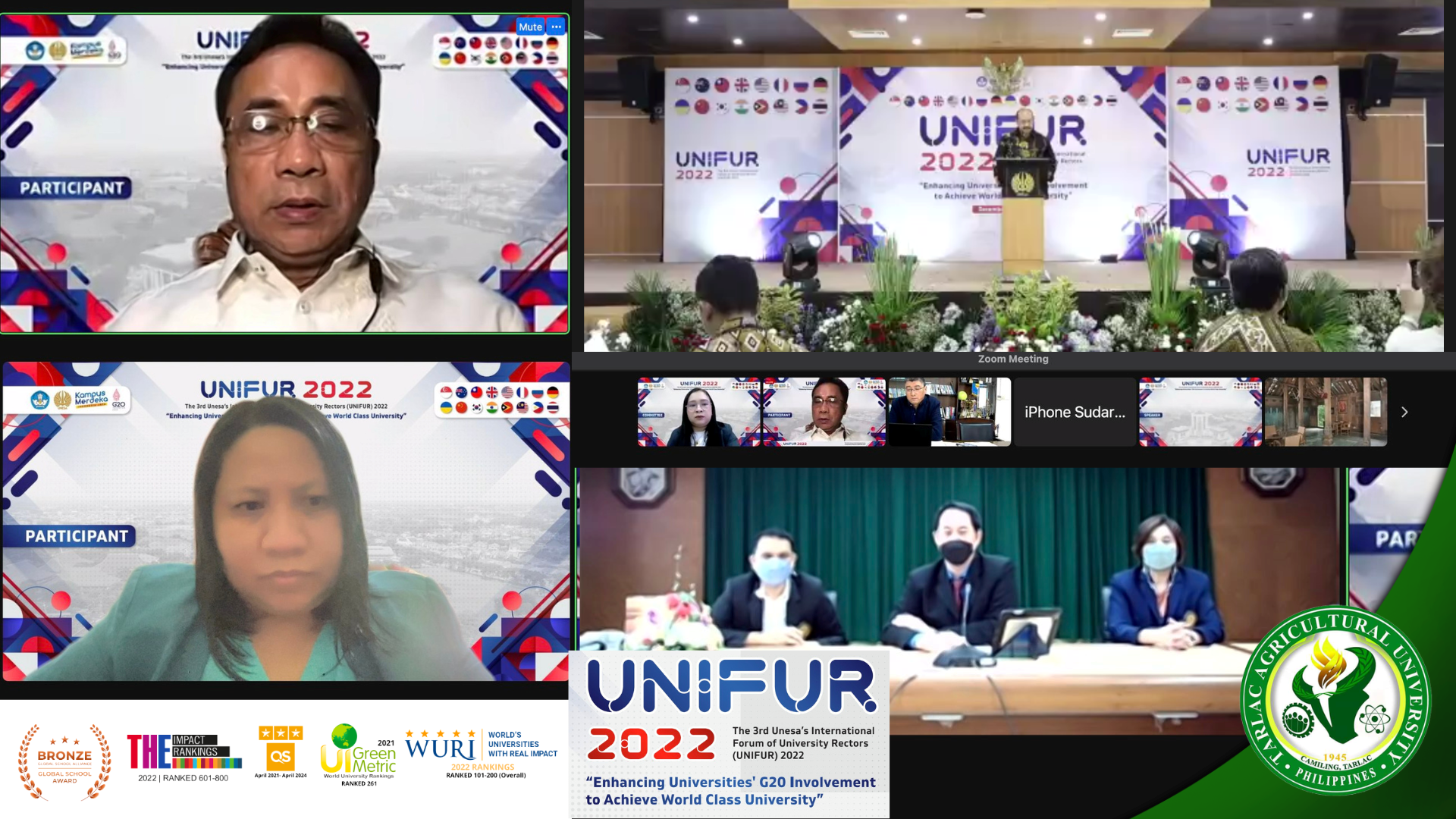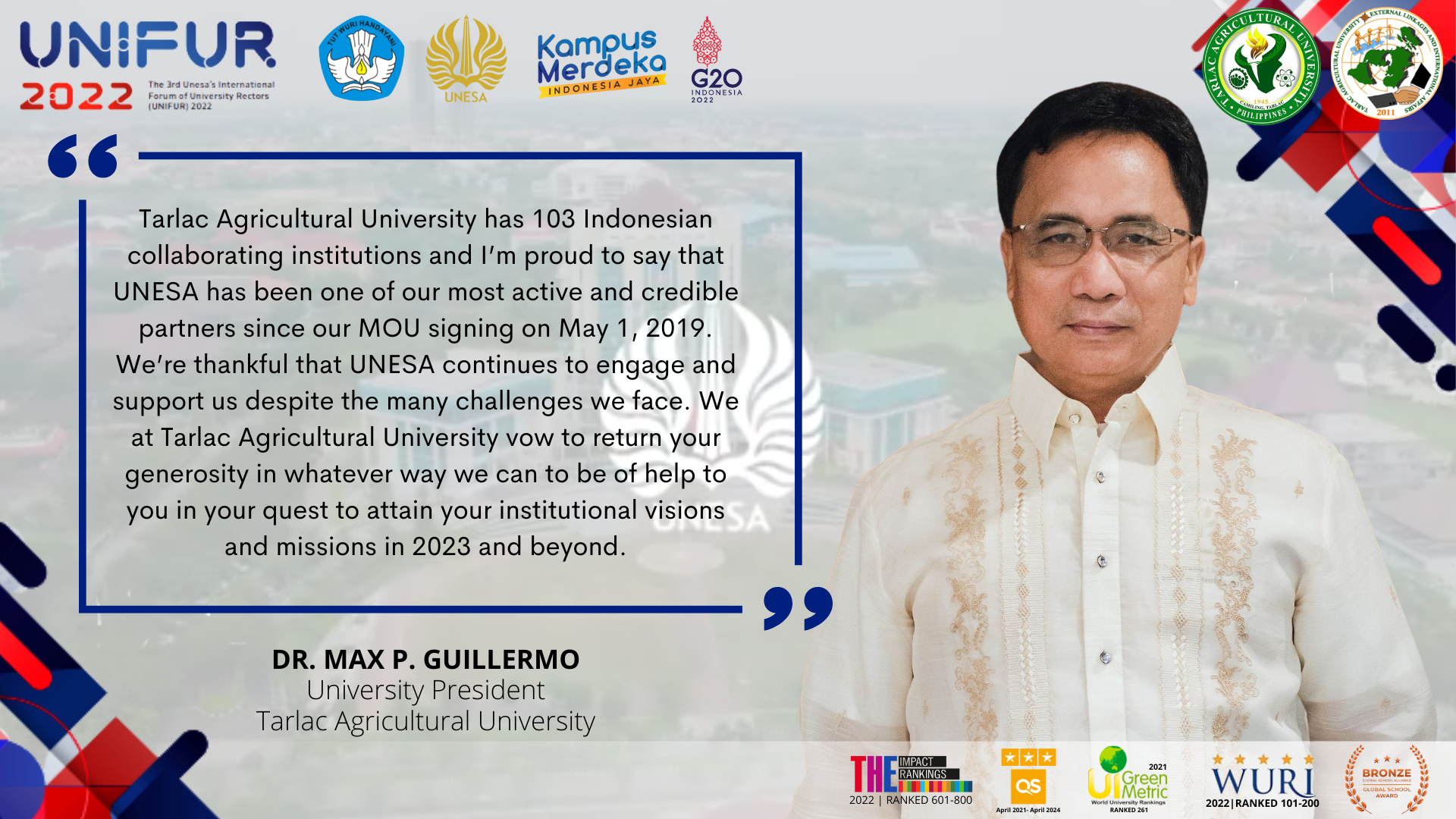 Sharing prestige with four Higher Education Institutions (HEIs), Tarlac Agricultural University (TAU) has once again proven its commitment to pushing the boundaries of internationalization as its leadership were conferred with Excellent Partnership Award by the Universitas Negeri Surabaya (UNESA) during the UNESA International Forum for University Rectors (UNIFUR) on December 8.
The awarding session was witnessed by the Indonesian Directorate of Education, Culture, Research, and Technology and high-ranking officials of HEIs from 16 countries including TAU's fellow awardees namely, The University of York (UK), King Mongkut University of Technology North Bangkok (Thailand), Universiti Malaya (Malaysia), and University of Newcastle (Australia).
TAU was acknowledged for "strengthening global partnerships by initiating and implementing collaborations." Said affair coincided with UNESA's 58th anniversary, 3rd annual UNIFUR convention themed "Enhancing Universities' G20 Involvement to Achieve World Class University," and the G20 hosting of the Republic of Indonesia.
Receiving the recognition on behalf of the university, Dr. Max P. Guillermo, TAU President, extended an invitation to UNESA and other HEIs in the assembly to participate in ASEAN STARS, Global Goals Cross-Sectoral Dialogues, Global Discourses, International SDGs Bootcamp (ISB) Year II, mobility programs, and the 77th Founding Anniversary of TAU.
As further mentioned by Dr. Guillermo, ASEAN STARS or Sustainable, Transcultural, and Advanced Regional Society "is a cross-border, multilateral initiative that seeks to promote intercultural understanding among ASEAN neighbors." Meanwhile, Cross-Sectoral Dialogues and Global Discourses are "platforms for partnership engagement among SDG experts, advocates, volunteers, and students while ISB is a project-based activity that aims to address some of our societal problems and concerns."
Dr. Guillermo was joined by Dr. Christine N. Ferrer, Director of TAU External Linkages and International Affairs (ELIA), in the virtual event. In a post-conference interview, Dr. Ferrer shared that TAU will continue to tap Southeast Asian partners and commit to a more responsive and relevant cooperation with them. "In fact, we will be hosting Universitas Mercu Buana (UMB) and Universitas Pembangunan Nasional Veteran Yogyakarta (UPNVY) in-person, next week," Dr. Ferrer shared.
UNIFUR, a forum for university and private sector leaders to discuss various forms of linkages, featured presentations, speakers, and sessions from top universities, and experts, as well as focused group discussions on possible collaboration frameworks while G20 is an interstate council of 19 countries and the European Union that seeks to pull off a united front in managing trade disputes, sustainability, and security concerns among others.
Text by Mr. Jerome L. Duque (TAU-ELIA)
Posters by Mr. John Paul Q. Gordovin and Mr. June Adel S. Guerrero (TAU-ELIA)