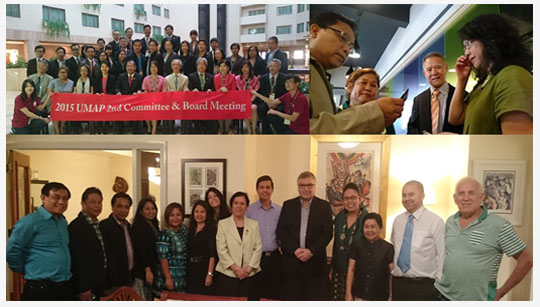 Compelled by the commitment to initiate personal and societal transformation, TAU engages in innumerable programs anticipated to effect change.  However, trailing the path of transformation and development is easier said than done especially if support, in all aspects of the word, seems to be untenable and inaccessible.  In spite of this, the University has continuously strived to remain enthusiastic in seeking all potential tie-ups in order to pull off its mission of bringing out social transformation and countryside development towards establishing international relations and global engagement. 
At present, the University is incessantly exploring for more partnership opportunities with our Asian neighbors and in other countries which are open for academic mutual cooperation. This is a strategic move to address the demands of globalization and internationalization of higher education. 
TAU anchors its strategic internationalization and collaboration initiatives guided by the following components of a comprehensive internationalization model: articulated institutional commitment, administrative leadership, structure and staffing; curriculum, co-curriculum and learning outcomes; faculty policies and practices; student mobility; collaboration and partnership.  
The University translates and rationalizes its internationalization framework anchored on the following directions:
I.  Internationalization Engagement 
Enhancement of the institution's international or national reputation and visibility though the development of a global/internationalization and linkaging strategy framework and by expanding engagements and partnerships leading to remarkable global opportunities for cross-border mobility, collaborative research and information sharing
II. Learning and Development 
Building exceptional international opportunities for faculty and students though academic and cultural exchange programs, international paper presentations and publications, as well as cross-cultural information sharing to leverage their professional and intellectual horizons
III.  Engagement and Connections  
Implementation of strategic networking and collaboration initiatives to generate more resources and build institutional capacity through expansion of institutional memberships in associations and consortia 
As the University is still journeying the road in enhancing its position and identity in the international scene, the finish line seems always to be just down the road and around the next sharp curve. TAU, then shall continually make key decisions at major crossroads and fine-tune the route as unexpected and unforeseen challenges will likely to emerge.  
The current hallmarks do not only reflect previous destinations traversed but also ongoing and even future plans which represent a sort of distance marker – a reflector of where TAU has been and where it is heading thru. It is committed to AIM HIGHER for another state and level of communal commitment to quality and relevance in higher education in its bid to carve a niche in the Southeast Asian Region.