TAU  hosts CHED's IZN  Conference Workshop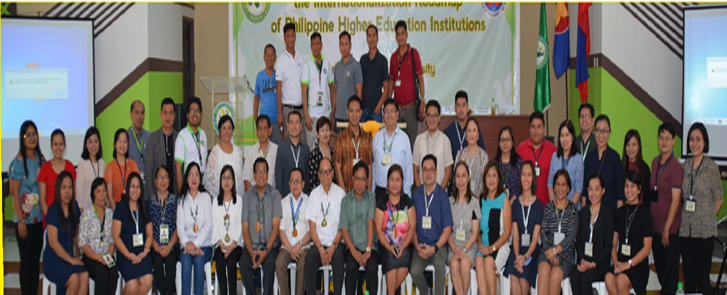 Privileged to take part in the Commission on Higher Education (CHED)'s effort in encouraging Philippine higher education institutions (PHEIs) to take a holistic and programmatic approach in pursuing their internationalization strategies  and  programs, the Tarlac Agricultural University (TAU) hosted CHED's Conference  Workshop  on  Building the Internationalization Roadmap of Philippine Higher Education Institutions  held  on  April  18 – 20, 2018 at the TAU Agritourism Hostel Function Hall.
Said conference workshop endeavored to upgrade and strengthen the institutional capacity of HEIs to serve the public effectively and promote the internationalization of Philippine higher education. The three-day workshop aimed to produce CHED Internationalization Roadmap for PHEIs that will serve as a blueprint and framework of strategic and innovative activities; strengthen                the          higher    education              system improving the institutional capacity of HEIs by redefining their directions and plans in pursuit of academic excellence within internationally benchmarked standards in producing globally competitive graduates and productive digital citizens; and finalize the array of guidelines that would serve as guide of the Commission in the delivery of various internationalization activities. Atty. Lily Freida M. Milla, Director of the CHED International Affairs Staff unveiled the program directions by discussing the activity rationale and leveling of expectations during the Opening Program followed by presentations of internationalization experiences, programs and best practices by Dr. Luis Maria R. Calingo, Holy Angel University President and Dr. Max P. Guillermo, TAU President, representing private HEIs and SUCs, respectively. Meanwhile, Dr. Caridad O. Abuan, CHED Regional  Director, has been represented by Ms. Lora L. Yusi and Dr. Cristina M. Nuque, CHED Regional Supervisors. The latter delivered Dr. Abuan's message to the participants.
Prof. Eddie M. Nuque, Senior Fellow of J.R. Institute of Governance, De La Salle University facilitated the workshop on the 'Goals or Objectives of Internationalization and Identifying Opportunities and Challenges Based on the Internationalization Experiences.' Prof. Nuque and Dr. Alan S. Cajes, Vice President/ Managing Director and OIC of Graduate School for Public and Development Management  of the Development Academy of the Philippines also moderated another workshop to 'Identify the Internationalization Milestones for Higher Education and Drafting the Internationalization Roadmap for Philippines HEIs.'
Moreover, Mr. Rodolfo Sabas, consultant     of     the     Canadian     Bureau   of International Education (CBIE), also joined the participants and shared his inputs during the presentation of outputs.
The participants also worked on internationalization guidelines and were grouped accordingly to draft the following: Policy on Foreign Student Scholarship, Guidelines for Pinoy Global Talent, Guidelines on International Academic Mobility Grants and Exchange Programs, Guidelines on Participation in International Benchmarks, Guidelines on Grants to Implement Internationalization Strategies, Guidelines for the Professor in Motion Program, and Proposal on the Implementation of Hub for English Language Education and Training.
The 'Creation of the Philippine Higher Education Brand' has been the focus discussion on the last day of the workshop with Dr. Dante M. Velasco, President and CEO, Creative Point International, Inc., as lecturer.
The activity was participated in by international relations officers (IROs) from 11 private HEIs and 8 SUCs which are affiliates and participantsinthe Training on Internationalization (Canada  15),  ASEAN  International  Mobility of  Students  (AIMS)  including  institutions  who are offering Transnational  Education (TNE) programs. CHED IAS and Kto12 staff also attended the said conference workshop. (SRLingaya, TAU-ELIA)