𝐌𝐚𝐬𝐢𝐧𝐥𝐨𝐜 𝐋𝐆𝐔, 𝐁𝐮𝐥𝐒𝐔 𝐈𝐙𝐍 𝐭𝐞𝐚𝐦 𝐞𝐧𝐠𝐚𝐠𝐞 𝐰𝐢𝐭𝐡 𝐓𝐀𝐔 𝐨𝐟𝐟𝐢𝐜𝐢𝐚𝐥𝐬, 𝐞𝐱𝐩𝐥𝐨𝐫𝐞 𝐦𝐮𝐭𝐮𝐚𝐥 𝐩𝐫𝐢𝐨𝐫𝐢𝐭𝐢𝐞𝐬
Article | Jerome L. Duque (External Linkages and International Affairs)
Photos | ELIA staff and OJT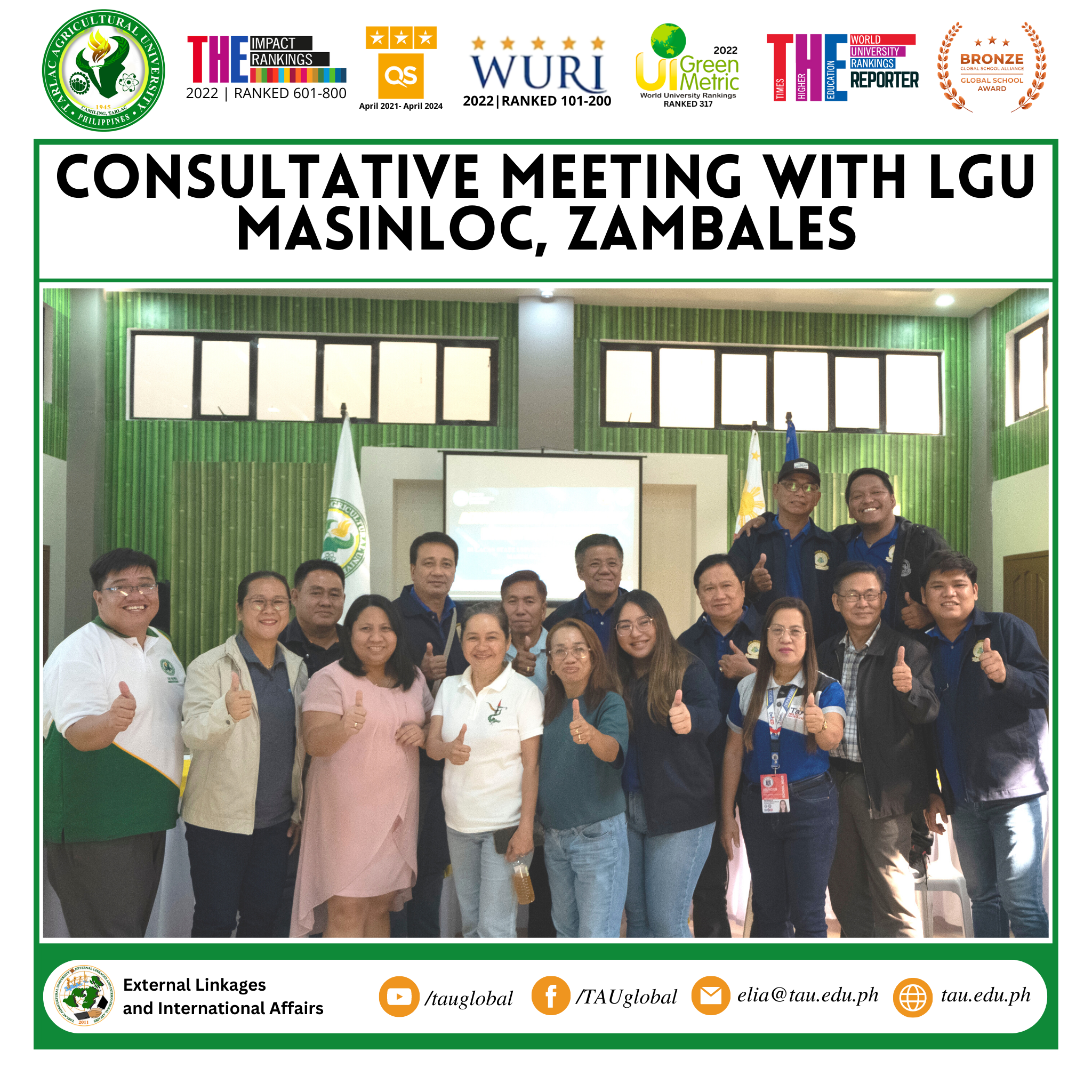 Leaders from two institutions in Central Luzon expressed their willingness to establish a stronger bilateral relationship with Tarlac Agricultural University (TAU) after taking part in the partnership development meeting and benchmarking session at TAU Farmers' Training Center on 24 March.
Mayor Arsenia J. Lim of the Municipality of Masinloc in Zambales and Dr. Charlyn Nayve Villavicencio, Deputy Director of Bulacan State University's (BulSU) International Relations Office (IRO), were both very thankful for the generosity of their host. 
Sharing her administration's achievement and future plans, Mayor Lim underscored the importance of education in upward social mobility thus she iterated that the proposed Colegio de Masinloc will be her gift to Masinloqueño youth and their parents. "Matagal ko na pong pangarap ito. Ako po ay nagmula sa isang liblib na lugar at anak po ng isang mahirap. Malaking factor lalo na sa paghahanap ng trabaho ang pag-aaral ng mga bata."
Greeting her counterparts, Dr. Villavicencio said she looks forward to observing how TAU performs its IZN-related functions and studying TAU's best practices. She is joined by four other staff from BulSU IRO.
Asked about TAU's eagerness when it comes to hosting local and international partners, Dr. Christine N. Ferrer, Director of External Linkages and International Affairs (ELIA), said that TAU will continue to welcome those who seek assistance along the lines of sustainable development. "Providing service is part of our mandate at TAU. We must help communities mitigate the impacts of global changes, may it be in higher education, governance structure, and agro-industrial policies among others."
The morning plenary included fora on SDG-integrated research and extension led by Dr. Maria Elena T. Caguioa, Director for Research and Development, and Dr. Yolanda S. Guillermo, Director for Extension and Training, respectively, and TAU's Internationalization and Rankings which was briefly presented by Mr. Jerome L. Duque, ELIA staff. It was also attended by Dr. Danilo N. Oficiar, Vice President for Student Affairs and Services, Dr. Arlene V. Tomas, OIC for the Office of the Vice President for Academic Affairs, Ms. Yolanda F. Juan, Chief Administrative Officer (CAO) for Administration, and Ms. Caroline N. Gabis, Chief of ELIA's Partnership Development.
𝐁𝐮𝐥𝐒𝐔 𝐠𝐨𝐞𝐬 𝐚𝐫𝐨𝐮𝐧𝐝 𝐭𝐡𝐞 𝐜𝐚𝐦𝐩𝐮𝐬
After the opener, the BulSU delegation took part in a campus tour in some of the university's strategic centers and offices. They were escorted by ELIA staff in the Bambusetum and Engineered Bamboo facility where they were shown some of the 50 bamboo species grown in the area and witnessed the processes in the manufacturing of bamboo products. Afterwards they proceeded to SMART Agriculture Center and were given access to automated greenhouses currently growing cucumbers.
In the final stretch of the visit, the IZN advocates learned how daily operations are being handled at ELIA as they interviewed the staff-in-charge of the Innovation Laboratory (iLab) and the ELIA office. They also met Dr. Ferrer and inquired about how IZN works at TAU.
BulSU and TAU has an existing Memorandum of Understanding (MOU) anchored on multilateral research partnership signed on 10 June 2021 by the said higher education institutions and eight other universities in Region III.
𝐄𝐋𝐈𝐀, 𝐌𝐚𝐬𝐢𝐧𝐥𝐨𝐜 𝐩𝐥𝐚𝐧 𝐟𝐨𝐫 𝐂𝐨𝐥𝐞𝐠𝐢𝐨 𝐝𝐞 𝐌𝐚𝐬𝐢𝐧𝐥𝐨𝐜
A consultative meeting between Masinloc officials and Dr. Ferrer ensued in the afternoon. The discussions focused on the requirements that the Masinloc LGU needs to prepare and submit to the Commission on Higher Education (CHED).
Mayor Lim, including the members of the Technical Working Group (TWG), explored the courses they would initially offer. "Maraming mga bata ang ayaw kumuha ng agriculture at wala nang interes sa pagbubukid samantalang kailangang kailangan na po sa aming lugar 'yan kaya't ineencourage po namin ang mga kabataan dahil para rin po ito sa food production para balanse ang paglago ng ekonomiya," Mayor Lim stressed.
In 2021, Masinloc had been acknowledged as one of the country's top municipalities when it comes to locally sourced revenues as it posted collections amounting to almost half a billion pesos. It is also often cited as one of the LGUs with best social services ranging from monthly pensions for the elderly to feeding programs.
#TAUGlobal #Masinloc #BulSU #ColegiodeMasinloc