ELIA Volunteers top Search for Outstanding TAU Global Student Ambassadors, Global SDG Advocates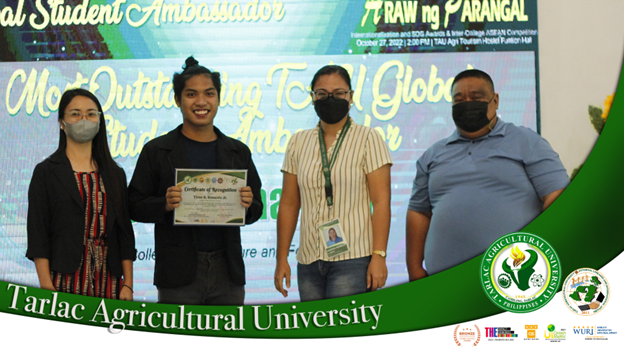 Two External Linkages and International Affairs (ELIA) volunteers vied for the top spot in the Search for Outstanding Tarlac Agricultural University (TAU) Global Student Ambassadors (GSA), a category in the Internationalization (IZN) and SDG Awards (ISA), and received cash prize in recognition of their active participation in IZN programs, leadership role in IZN activities, awards in and video documentation of IZN engagements, and implementation of re-entry plan.
Acknowledged during the Araw ng Parangal on October 27 at TAU AgriTourism Hostel, Mr. Tirso R. Renante Jr. from the College of Agriculture and Forestry (CAF) and Mr. Bren Noah M. Nieto from the College of Arts and Sciences (CAS) were proclaimed as Most Outstanding GSA and first runner-up, respectively. 
When asked about the impact of IZN in his future prospects, Mr. Renante, who was recently elected as a councilor in the Supreme Student Council, said that the IZN opportunities served as "stepping stones and milestones." Mr. Renante went on to share that such undertakings molded him to become a globally-competitive individual. "Upskilling and reskilling through mobility allow me to embrace the future."
CAS Student Council President, Mr. Nieto, stated that the different student mobility programs endorsed by ELIA changed his life as a student. "These experiences drove me to become more productive. During lockdowns, I gained an innumerable amount of knowledge from various webinars bannered by international speakers, unlocked new skills from short-term courses, met and learned with Indonesian students through regular student exchange programs, and engaged in a multi-perspective discourse by being invited as a speaker in IZN programs," Mr. Nieto affirmed.
Mr. Nieto also expressed his gratitude to ELIA for all the support and encouragement. "ELIA has continuously bolstered my resolve to partake in future mobility programs," Mr. Nieto ended.
Other winners of GSA include Mr. Elisha Ginne C. Espiritu (CAS), second runner-up; Mr. Herald L. Serrano of College of Education (CED) and ELIA volunteer, third runner-up; Mr. Jerick A. Juliano of College of Agriculture and Forestry (CAF), fourth runner-up; Ms. Roanne M. Galo of College of Engineering and Technology (CET), fifth runner-up; Mr. Arjay A. Aguinaldo (CED), sixth runner-up, Ms. Marinel P. Bumacod of College of Veterinary Medicine (CVM), seventh runner-up; and Ms. Angelic T. Luto (CVM), eighth runner-up.
Meanwhile, Mr. Renante's Crop Science Society won the Search for Outstanding TAU Global SDG Advocate for his organization's sustainability programs, innovation, and community engagement.
The TAU Global Sustainable Development Goals (SDG) Advocates Awards seek to highlight and reward student initiatives which can help promote citizen engagement and effect positive change. The award recognizes TAU student groups or organizations who take action while building connections and reinforcing impact across communities towards achieving the SDG.