May the best IDEAS prevail
ELIA, OSSD Champion SDG via Fund Grant Initiative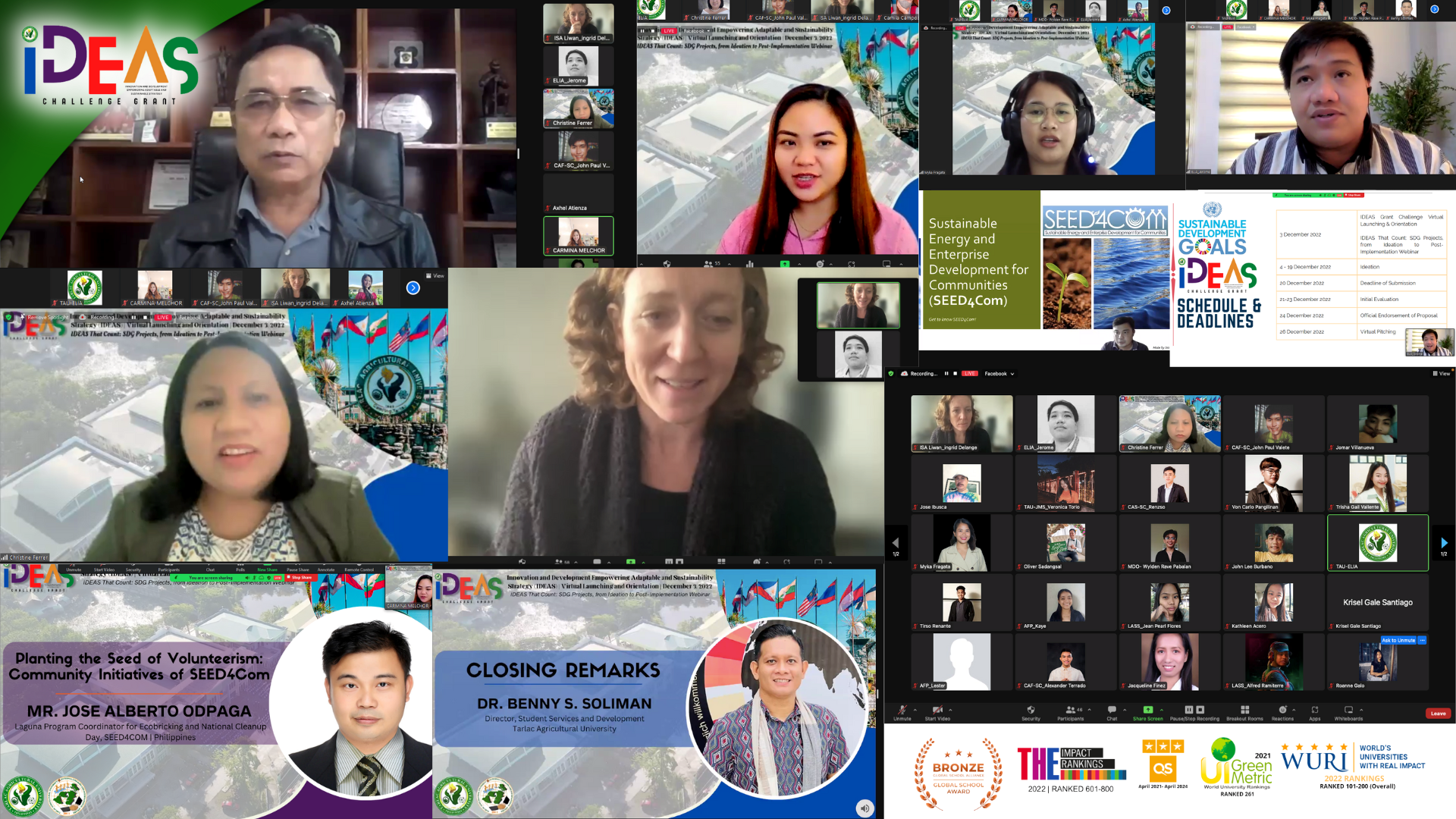 Student leaders from Tarlac Agricultural University (TAU) who have been looking for funding opportunities for their priority projects need not to worry.
This, after the External Linkages and International Affairs (ELIA) launched the IDEAS (Innovation and Development Empowering Adaptable and Sustainable Strategy) Challenge Grant (ICG) in collaboration with the Office of Student Services and Development (OSSD) on 3 December through the IDEAS That Count: SDG Projects, from Ideation to Post-Implementation Webinar.

Commenced by TAU President, Dr. Max P. Guillermo, the virtual orientation cum forum, featured sessions with renown sustainability experts and volunteers from the Philippines, China, and the United Kingdom. Further commending the proponents, Dr. Guillermo called the ICG "a springboard for excellent project development and community engagement."
The ICG steering committee urges 61 OSSD-sanctioned student organizations (SO) to submit proposals for SDG Projects. Primarily, ICG seeks to integrate Sustainable Development Goals (SDG) in youth-instituted operations and provide seed funds for the development and/or initial
rollout of sustainable programs.
Each SO may submit more than one proposal. All accepted propositions will be qualified to receive funding of P10,000 each. ELIA, through the ADAPT-TAU program, allocated half-a-million-worth of grants for SOs from high school to graduate programs.
Dr. Christine N. Ferrer, ELIA Director, said in the statement of purpose that ICG shall tap into the youth's immense potential as they have the "capacity and the will to help rebuild the nation and shape the future."
Expressing her excitement, Ms. Rona B. Musa, councilor at the College of Agriculture and Forestry - Student Council (CAF-SC), shared that her organization is planning to conduct a project on zero-waste management as they look forward to jumpstarting a college-wide income-generating enterprise using plastic bottles. If selected Ms. Musa said that they "hope to utilize the fund in growing a sustainable venture."
The deadline of submission of entries is set on 20 December while the pitching will be held virtually on 26 December. For more information, you may check this link:
https://bit.ly/ICGGuidelines. All documentary requirements must be submitted here: https://bit.ly/IDEASChallengeGrant.
Text by Mr. Jerome L. Duque (TAU-ELIA)
Poster by Mr. John Paul Q. Gordovin (TAU-ELIA)