To pay homage to Tarlac's heritage, people, wonders
ELIA hails Edutourism Documentaries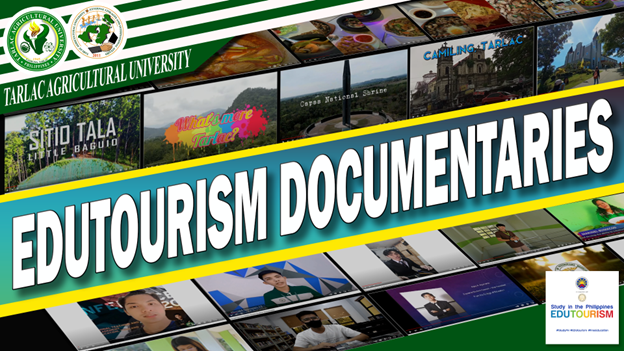 In support of Commission on Higher Education's (CHED) StudyPh Program, the Tarlac Agricultural University  (TAU) - External Linkages and International Affairs (ELIA), through its ADAPT-TAU Project, joined forces with five TAU colleges in piloting the Edutourism Documentaries.
Acclaimed during the Araw ng Parangal on 17 October, the entries sought to boost Tarlac's holiday getaways, expose hidden culinary delights, and engage the agricultural and indigenous sectors.
CED prevails in travel vlog, agri-docu
Coursing through the meanders of Western Tarlac, a team from the College of Education (CED) climbed the highlands of Western Tarlac and visited Sitio Tala, Sito Baag, and Tarlac Recreational Park which are all located in the municipality of San Jose. After communing with nature,  the group enjoyed the unique food of Mudita Glamping Resort and the views at Balkonahe de San Jose. CED's video presentation earned the nod of the judges in the Travel Tarlac contest.
Coming in second place is College of Engineering and Technology's (CET) feature of Capas National Shrine. Third placer, College of Agriculture and Forestry (CAF), did not hesitate to take a second look at Camiling's historic town center. The College of Veterinary Medicine (CVM) landed fourth place for touring the sacred grounds of Monasterio de Tarlac.
CED was also the champion in Farmers' Diaries after it effectively highlighted the plights of young farmers from Mayantoc. Torn between providing for their families or studying in college, the student-farmers narrated how they managed their time tending the fields and going to school. A similar concept yet an entirely different take on the challenges young farmers faced enabled CET to secure the second spot. Trailing behind CED and CET were College of Arts and Sciences (CAS) with its Rambutan Farm story, CAF's interview of agripreneurs, and CET's backyard farming report, respectively.
Culinary Legacy and People's Heritage
CAF members' province-wide search for the best cuisine led them to explore Tarlac's premiere foodie paradise and attained gold in the Food Tourism bracket. From Tarlac City's kampukan, a ceviche-like dish only that is made of chevon or goat meat instead of fish, to Camiling's version of bagnet, the team explored Tarlac's best dishes and promoted its gastronomic pride. Meanwhile, the CET team tried Gerona's pares, a beef stew enriched by the distinct aroma and taste of star anise and fried garlic, and captured the first runner-up title.
As Central Luzon's Melting Pot, Tarlac takes pride in its diverse culture. CAS explored this theme and discussed it with Dr. Lino L. Dizon, a renowned Tarlaqueño historian. CAS then went on to top the People of Tarlac category. CET's account of the people of Sitio Tala was proclaimed as the second place. It was followed by another CET entry which delved on the life of a visual artist whose works are inspired by indigenous people. Placing fourth is CAF with its review of the town of Pura's religious, agri-tourism, and livelihood prospects.
"We have always aspired to bring Tarlac closer to our Philippine and international partners," Dr. Christine N. Ferrer, ELIA Director, replied when asked about the rationale behind the Edutourism venture. Dr. Ferrer also said that part of the initiative's goal is to push TAU students to take an active role in advocating for sustainable development amidst the rapid urbanization and industrialization of the countryside. "Our farmers and indigenous people must be protected from the risks of an interconnected yet volatile world," Dr. Ferrer added.