The STARS are aligning
ASEAN HEIs Convene to Spur Regional Cooperation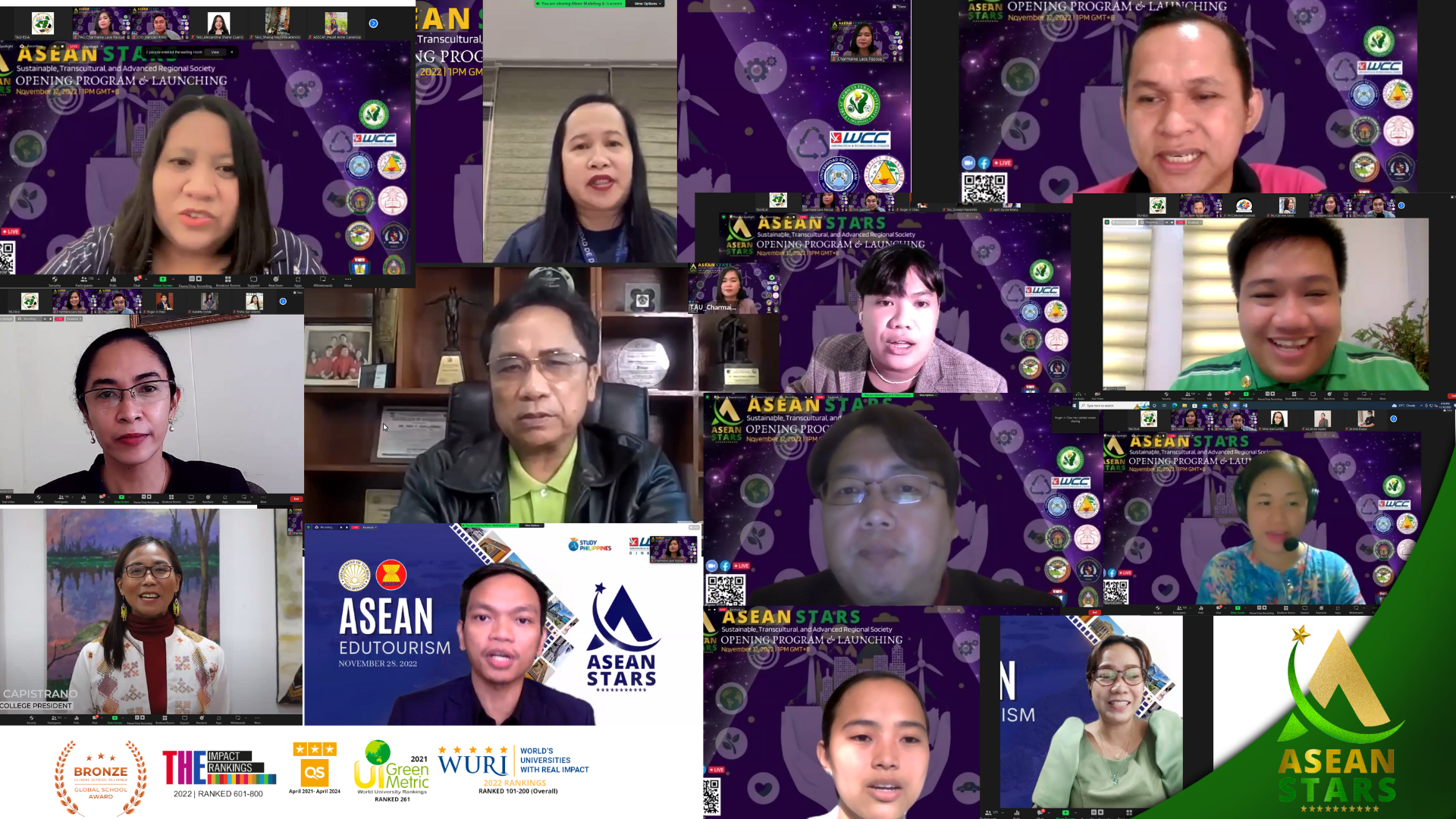 To promote inclusive and sustainable development anchored on advancing socio-economic welfare and raising cultural awareness, 10 higher education institutions (HEIs) from the Association of Southeast Asian Nations (ASEAN) joined forces in launching the ASEAN STARS (Sustainable, Transcultural, and Advanced Regional Society) on 12 November via Zoom. 
Initiated by Tarlac Agricultural University (TAU), the ASEAN STARS is co-presented by World Citi Colleges, WCC Aeronautical and Technological College, and Universidad de Dagupan (UDD) representing Luzon, University of Antique (UA) and Northern Negros State College of Science and Technology (NONESCOST) for Visayas, and University of Immaculate Conception (UIC) and Agusan Del Sur State College of Agriculture and Technology (ASSCAT) of Mindanao. Three ASEAN universities also collaborated with the PHEIs, namely Thailand's Chiang Rai Rajabhat University, Myanmar's Kyaing Tong University (KTU), and Indonesia's Universitas Pendidikan Ganesha. 
Dr. Max P. Guillermo, TAU President, welcomed the partners and participants,  and focused his speech on the collective aspirations of ASEAN citizens. "We yearn for progress but without sacrificing the capability of future generations to meet their own needs. We want to foster diversity, inclusion, and equality. Lastly, we wish that ASEAN keeps on serving as a shining beacon for the world," Dr. Guillermo stated. This was further echoed by Dr. Christine N. Ferrer, Director of External Linkages and International (ELIA), who led the overview of the program and introduction of collaborators. 
KTU Rector, Dr. San San Mar, also expressed her gratitude to TAU for choosing her university. "We are very proud that our partnership with TAU has resulted in many successful collaborations including the ASEAN STARS."
The ASEAN Dream
One of the highlights of the opening ceremony was the keynote speech of Dr. Roger Chao Jr., Assistant Director and Head of Education, Youth, and Sports of the ASEAN Secretariat. Dr. Chao discussed how ASEAN is now recognized globally as one of the most successful regional blocs, often compared to the European Union. 
During the plenary sessions, Dr. Chao also addressed some concerns regarding the inclusion of Timor Leste as ASEAN's 11th member, religious harmony among adherents of Southeast Asia's major religions, and the stance of ASEAN on world affairs specifically on interstate conflicts.
Letting the STARS Shine Brightest
Focal persons and event coordinators from Philippine partners presented the guidelines for the seven competitions and events. WCC will head the ASEAN Edutourism video competition while UDD will organize the ASEAN Cuisine. UA and NONESCOST will take the lead in ASEAN Fashion and ASEAN Digital Photography, respectively. For ASEAN Music and ASEAN Poetry, ASSCAT and UIC will be the primary coordinators. 
TAU will be in-charge of choosing the most creative performers in ASEAN Dances and shall also be hosting the ASEAN Languages Summit (ALS) in conjunction with experts from the collaborating institutions. The final details about the contests and ALS will be released on 19 November. 
In support of the objectives of project, Mr. Rene M. Babiera II, Coordinator, International Affairs and Linkages Office of UIC, commended the ASEAN STARS and called the initiative an "innovative way to bring together higher education institutions in the region." Mr. Babiera also stressed that through the said program which embeds culture and banks on creativity, students can "showcase the best of what the ASEAN Region can offer to the world."
Meanwhile, WCC's Director for International Affairs and Linkages, Mr. Jaime Borromeo II, said that ASEAN STARS will "help promote and preserve the heritage and culture of our ASEAN partners."
The ASEAN STARS will run from November 2022 to January 2023 and will be conducted in hybrid format.
Text by Mr. Jerome L. Duque (TAU-ELIA)
Poster by Mr. John Paul Q. Gordovin (TAU-ELIA)